Villa Layout
Within Villa Ramadewa's large garden, two thatched pavilions face each other across the 15-metre swimming pool, sun deck and lawn. Furthest form the entrance is the two-storey bedroom pavilion, where a pair of guest suites open onto the lawn and, above, an open terrace separates the large master suite from an office/reading room. From here, a pond-lined colonnade –with spa room and rooftop terrace above – leads to the professional kitchen and the living and dining pavilion. Behind, off a semi-open gallery that links to the villa's entrance, is a temperature-controlled wine room.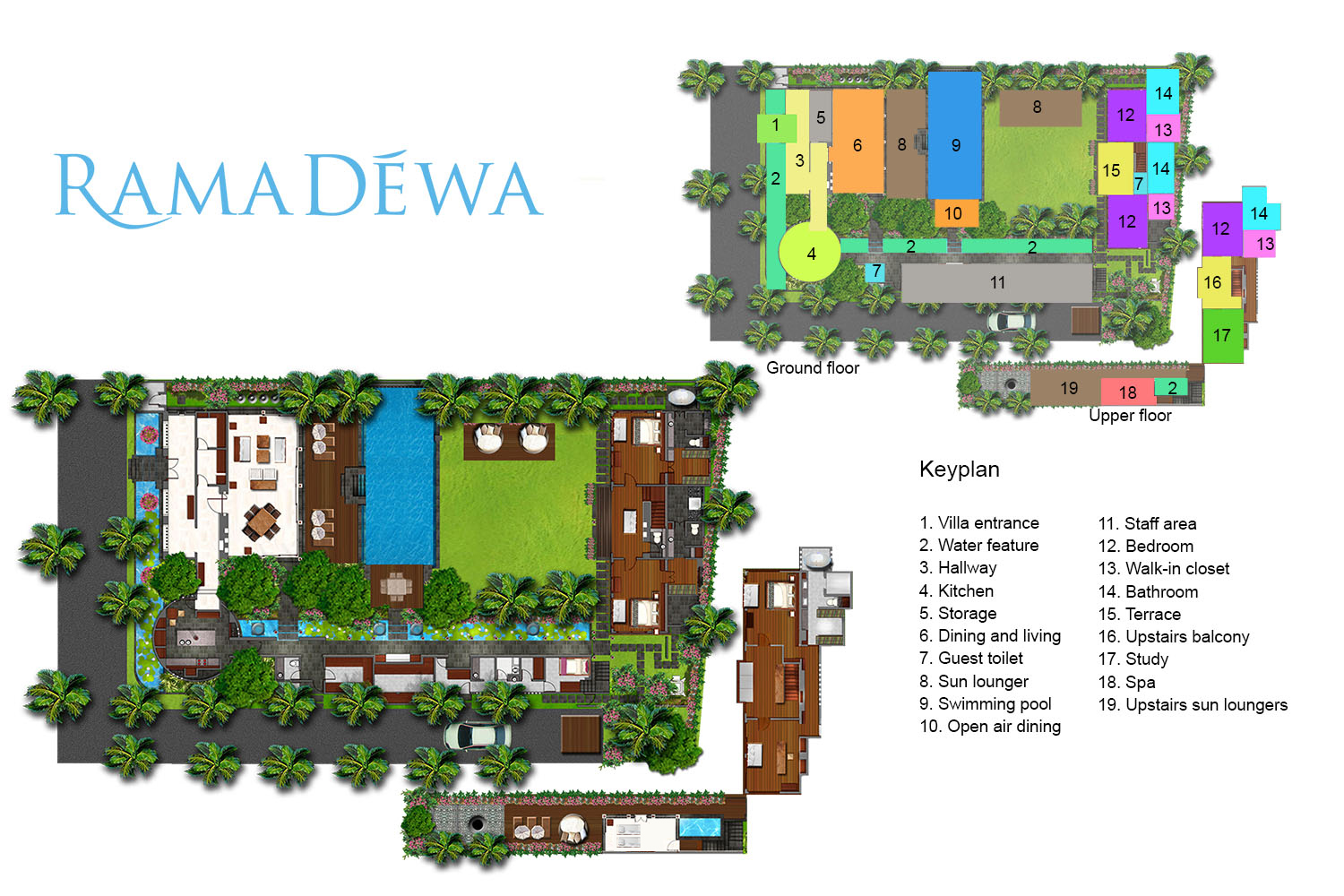 Download in high resolution
Living areas
Designed for entertaining in style, the huge living and dining pavilion is Villa Ramadewa's social hub. Striking antique statues and artefacts surround deep-cushioned sofas and a dining table seating eight in supreme comfort. Below the vaulted alang-alang thatched ceiling, the white stone floor flows towards the ironwood deck beyond walls of sliding glass doors that can be closed for air-conditioned cool or flung open for breezy tropical living.
A magnificently carved antique joglo-style balé suspended over one end of the pool provides a magical setting for semi-alfresco dinners, with gourmet fare created in the state-of-the-art kitchen close by.
There's further entertaining space on the roof terrace – a private suntrap with parasol-shaded loungers overlooking the pool. On the same level is a spa room above the colonnaded walkway. Guests needing to keep a half-eye on business while on vacation can retreat to the study where a computer sits on a massive desk oriented for the pool views.
Daybeds tucked into terraces and walkway recesses provide languid corners for siestas. Within the garden, couples can curl up in the huge circular all-weather wicker sofas under a cluster of fragrant Frangipani trees, or head for the many comfortably cushioned sun loungers on the ironwood deck lining the 15-metre swimming pool.
Bedrooms
Master bedroom suite
Gazing down on the garden and pool, the king-of-the-castle master suite blends high-tech with home comforts. Under the vaulted roof, a king-size bed with top-quality bedlinen sits before a 50-inch screen with Apple TV, DVD player and Bose sound system. Kimonos and slippers await guests in the walk-through dressing room, leading to a glamorous bathroom with Philippe Starck fittings including the statement bathtub placed under a circular roof light. Both bedroom and bathroom are air-conditioned, and there's an iPod and dock in both areas.
Guest bedrooms
Opening onto the garden via floor-to-ceiling sliding glass doors, the two air-conditioned guest bedrooms are as high-spec as the master, with 32-inch TVs, DVD players, Bose sound systems, iPods, and mood lighting. Queen-size beds rest on teak floors and stylish armchairs and ottomans provide comfy reading corners. There are Philippe Starck fittings in the ensuite bathrooms, balanced with the option of Bali-style indoor/outdoor showers.